Kevin Marler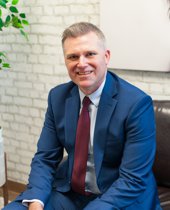 MY STORY
I grew up in Northwest Indiana (Valparaiso), graduated from Purdue University in 2004, and moved to Central Indiana shortly thereafter. I have lived in Hancock County since 2006 with my wife, two children, and our chocolate lab.

I am a proud former teacher. I taught Economics, Business, Marketing, and Advanced Placement U.S. History at Decatur Central High School (Indianapolis) and was twice nominated for DCHS Teacher of the Year. I also previously served as Assistant Director of Financial Aid at Marian University.

I have a bachelor's degrees in Communication and Education, and master's degrees in Business Administration (MBA) and Educational Supervision and Administration.

I enjoy sports, but I am really a music junkie and have been a musician most of life — even playing professionally for quite a few years. I play piano, guitar, and trumpet. I also sing and have written a lot of music over the years. Musical styles? All — particularly country, blues, jazz, classic rock, classic R&B, folk, and classical.
WHAT I DO
Real estate markets are HYPER LOCAL, meaning what is true in one neighborhood might not apply to another. I am educated in economics and finance and I know the communities I serve. But I also continually work to learn about local developments that impact my clients' decisions. My slogan is "Informed Real Estate" because I believe it is incredibly valuable that I stay informed so that you can be informed.

Communication can make or break a real estate experience. It's also one of my most natural skill sets. I believe in setting proper expectations for clients and keeping them up-to-date on all developments during a transaction. I encourage questions and open dialogue at all times.
As the child of longtime small business owners, I learned the importance of professionalism from a young age. This means: be fair and honest, follow through on your promises, and work hard to do what's right for your customers. As your agent, I represent you in all negotiations and transactions. And you deserve that top level of professionalism to accomplish your real estate goals.

I have a ton of fun being creative. So, I really enjoy creating all of your marketing materials (videos, photography, flyers, blogs, etc.). When you list with me, you aren't getting recycled or AI-generated fluff, you are getting thought-out marketing that is unique to your property.


I love helping others. It's why I'm here. Period.